Interview With Ignazio Di Salva On Playing And Practicing Blues Guitar
by Antony Reynaert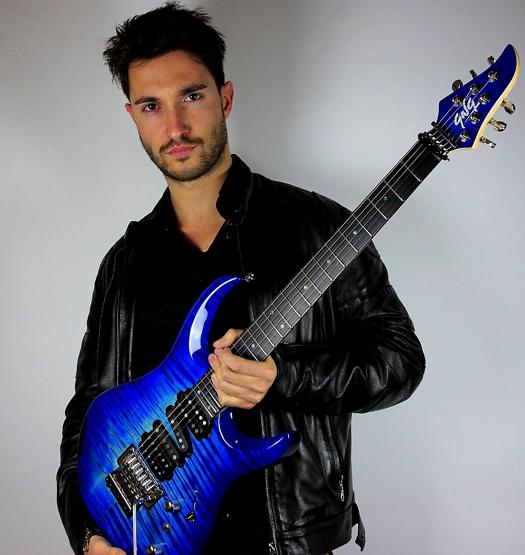 A couple of months ago I hosted a masterclass by a young Italian guitarist by the name of Ignazio Di Salva. The room was packed with students who where curious about this new found talent. I still remember the look on the faces of my students when Ignazio played the first few notes of one of his mind blistering tracks... it was exactly the same look as when the masterclass was over. Over the course of ninety minutes he had challenged our believes of what is humanly possible to play on a guitar. While paving his way towards the big leagues, I took my change to interview him on his background with the guitar and asked him to share his best advice on the topic of playing the blues.
Antony Reynaert: What advice would you give to beginner blues guitarists? 
Ignazio Di Salvo: First of all, you need to discover the language. You cannot play any music style if you do not really get into it. Start to listen to the most important masters and try to absorb their language. Feel yourself as a part of that language and let it touch your heart. This is the most important part in the beginning. Passion is everything. Then, start to stay in the structure playing blues with your comping. It's another important starting point to be comfortable with the structure and the blues feeling.
AR: How long would you recommend practicing?
IDS: There's not a rule. It depends on what your goals are. Try to organize the time you have more rather than trying to study as much as possible. But off course, for any results you've to work hardly. A good way
to work would be to be consistent in putting time down your own study agenda, writing every part of the time you dedicate in your study in a notebook . This helps a lot.
AR: Did you ever take guitar lessons or are you self-taught?
IDS: I'm not self taught, I've had academical Jazz and Classical studies.
AR: Can you talk about the guitar playing skills that you had the most trouble developing? What where the practice approaches that you used to finally master them?
IDS: Personally my main problem has been the sense of timing due to a big mistake during my teen years. I studied only to be fast without any care about the rhythm displacement. Even worse, not one teacher let me notice that…Absolutely a shame. Anyway I solved the problem studying at very very low speed with the metronome to adjust the displacement recording on every exercise and many nerdish stuffs like that. Still I'm working on it but the situation seriously got better than before.
AR: Do you make a determined effort to memorize certain licks or does it just come naturally through years or playing and improvisation?
IDS: Basically both, there are two steps. In the first one I work without metronome to memorize the mechanics, then I start to work with the metronome at a slow speed with the aim to increase a few the beat when I'm comfortable enough with it. The second one is pure application over songs, backings and the band.
AR: Do you think it's a good idea to learn only blues scales to become a good blues guitarist or do you need more than that?
IDS: Off course the more you know the richer your language will be. But in the end, it doesn't really matter how many scales or arpeggios you know but your own personal use of that stuff is where the power lays.
Think about Steve Ray Vaughan: He used to play simple pentatonics but hey... What a groove and energy! That's the point.
AR: What are according to you the best examples (for the beginning guitarist until the advanced level guitarist) of blues players to study and exactly WHY are they your best examples?
IDS: It's not possible to talk about the best examples, simply because all of this depends on your own personal musical taste. At least, if you want to play blues, or jazz or whatever you strongly need to know the history of the language… I mean all the masters. Try to discover as much as possible at first. Then you'll be able to chose who's the best to study for you. If you know your musical taste you'll be able to choose what you really like and enjoy to build your personal playing style way. By the way, my personal loves in the Blues are SRV, BB King, Robben Ford and Joe Bonamassa.
AR: Could you elaborate on which "traps" to avoid absolutely in your guitar playing progress for guitar students?
IDS: To discourage yourself. Sentences like "I'm not talented enough" are absolutely a great damage for the learning process and for the creativity. Also, do not study without a serious program and without any metronome or rhythmical point of reference.
AR: Which artists influenced your musical development throughout your career?
IDS: Lots. I love Music so I currently listen to styles ranging from Classical to Jazz and Rock and Metal. The first impulse that I've been came from classical when I was a kid. So, for me classical is still the best inspiration to balance my musical spirit.
---
Learn About How To Play Blues Rhythm Guitar