How To Play Guitar With Intense Feeling – Free Emotional Guitar Playing Guide
Do You Want To Experience The Freedom Of Expressing Yourself Through Your Guitar?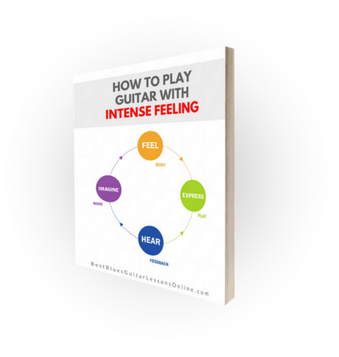 If you're like most people, you started playing blues guitar because you wanted to experience the feeling of expressing yourself through the guitar. Imagine coming home from a hard day of work, picking up your guitar and just let the music you make be an expression of your feelings.

Let me assure you, it's the best feeling ever…

But if you're like the majority of guitarists, you have no clue how to "translate your feelings" into the music you play.

It is very rare that a guitar teacher will ever teach you how to do this and it's even more rare to find this kind of 'emotional guitar playing' lesson online. That's why I have written the Emotional Guitar Playing Guide, so you can experience for yourself how it feels to be able to tap into unbound self-expression in your guitar playing.

In this FREE guide you will learn:
How to translate every emotion directly on your guitar
3 easy exercises to unlock your potential for maximum expressiveness (these exercises are so simple that they'll get you playing really emotional guitar solos right away).
How master teachers train their students to become guitarists that are able to express intense feelings with their guitar playing.
How to play guitar with feeling the right way. If you've tried to express yourself through your guitar, you've probably had a hard time with this, I will show you a very simple exercise so that you can express your feelings every time you touch your guitar.
The secret to how to play highly emotional blues guitar licks.
If you don't know these exercises your guitar playing will continue to lack conviction and feeling.

Experience the freedom of expressing yourself trough your guitar by downloading the FREE Emotional Guitar Playing Guide.

Fill in the easy form and get instant acces:
Your emailadress is 100% safe with us and will never be shared or sold